See on Scoop.it – screen seriality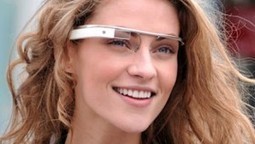 WATCH VIDEO. Accenture and KPN have developed a proof of concept using Google Glass and the Accenture Video Solution (AVS) for interactive television viewing, storage and control that has the poten…
Mattia Nicoletti's insight:
This project may really change the viewer experience. We are in the screen evolution era. In the living room screens are getting bigger, everywhere screens are getting smaller. The only question is about human habits. We are getting used to do everything (coffee apart…) with smartphones and tablets (we communicate, we write, we read news and books, we make picrtures, we make and listen to music, we watch and make video, we have meetings, we learn, we organize our day, we play, we draw, and much more) but can we get used to a object that usually hate (we are pleased to wear only sunglasses… sometimes just to look cool)?
3D glasses failed (that's the reason why companies are developing a 3D without glasses) and in the next few years we will face other glasses. Will we gwt used to them?
See on www.broadbandtvnews.com